It is understandable why DIY pest control and many other home projects are becoming so popular due to the internet and reality television. When rats or other rodents invade your home, there are only two options that come to mind. Professional services can be obtained from an experienced professional company or the problem can be resolved on your own. Depending on your specific circumstances, each option has its advantages and disadvantages.
What To Consider With DIY Pest Control
Recognizing the severity of your pest problem is essential. The quality of the product you use, your level of knowledge, and your availability. Most importantly, you should think about the safety of your family and pets, as well as whether or not you may be endangering your health or property.
Early Detection Is Crucial
It's not as simple as many keen DIYers think to get rid of rats and rodents. Identifying and locating rats can be challenging, especially if they are a specific type of pest. There are a number of problems associated with rats. It is possible for them to remain well hidden. Identifying these rodents and recognizing the problems unskilled DIYers are likely to miss all the early warning signs. As a result, rates will have more time to reproduce.
Commercial Quality Products Are Critical
Many DIY enthusiasts choose inferior products purchased online or from their local hardware store. They are affordable but often lack the quality and hygienic level compared to the commercial products applied by licensed professional pest control companies. Even then, there are expensive commercial products accessible to buy that fail to deliver due to the small quantities the DIYer is required for his/her home.
Professional Equipment And Your Time
DIY enthusiasts often choose inferior products purchased online or from local hardware stores. In comparison to commercial pest control products applied by licensed professional companies, these products are affordable but lack quality and hygienic standards. Even then, there are expensive commercial products accessible to buy that fail to deliver due to the small quantities the DIYer is required for his/her home.
You May Think Rats And Pests Have Gone
After spending all that effort, time, and money, most DIY people sooner or later realise. They haven't entirely eradicated all of the Rats and Rodents' problems. After some time, it may come as a shock to unaware DIYers when they find more severe Rats damage.
Out of Sight, Out of Mind?
Often DIY pest controllers will carry out an inadequate treatment. Therefore on the surface, Rats will appear to have gone making the unsuspecting homeowner believe their work was successful. But in reality, Rats may be remaining in areas where they could not see, hidden in concealed timber frames, behind plasterboard, and continue damaging their homes.
Consider Professional Service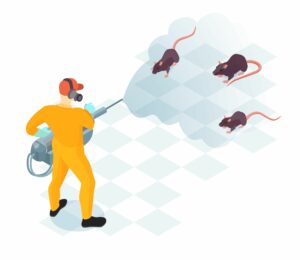 While some of the home projects may be well suited for those, who are good at doing things themselves, Rats and rodents are some of those trades best when left to professionals. True Rats and pest control experts have the knowledge resulting from long-term field experience. They know what works and what doesn't. Rats and pest control professionals have access to a wide range of equipment and products available to licensed pest controllers only. Moreover, they have the professional ability to detect rat colonies and prevent rats problem from coming back to your house or office.
Not only our team can help you exterminate and kill rate in your home or office (check our rat treatment process), but it also prevents a rat infestation in the future. Call us today to help you terminate this problem once in for all.